At Aruba Cunucu Residence, we're always on the lookout for how we can deliver the best value in fresh, exciting, creative ways. Our newest offer is one that is sure to please all! When you stay with us you can enjoy one discounted meal each day at any of the participating restaurants from Aruba Wine and Dine!  These are some of the very best VIP restaurants on the entire island. And In addition, the card also allows our guests the free use of beach chairs at MooMba Beach.
Aruba Wine and Dine Participating Restaurants
How Aruba Wine and Dine Works
For this partner in the Aruba Dine-Around program, ask for your Happy Island Discount Card, which entitles you to 15% off all food and drinks at the above restaurants, along with two free beach chair rentals at MooMba Beach. Note that the card cannot be used in combination with any other special offers. Free beach chairs are always subject to availability. The card if for your personal tourist use and is not to be shared with others.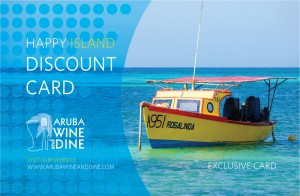 A BIT ABOUT ARUBA WINE AND DINE
"A variety of experiences. A consistent approach to quality and service."
When you believe that "Variety is the Spice of Life", then Aruba is where you ought to be! From cheeseburgers on the beach to international cuisine and fine dining and everything in between: you can eat and drink at Aruba's most popular restaurants brought to you by the Aruba Wine and Dine Group.
Known for their emphasis on the freshest foods, spirits, extensive wine lists, great entertainment, and impeccable service, the Wine and Dine Group is passionate about its goal to provide their guests with great value, top quality, and freshly prepared food, served by a friendly and professional staff in a relaxing, comfortable establishment.